Ticket
Advance tickets are available at ticket agencies and convenience stores in Japan, as well as at various places in Hiroshima city, including community cultural centers, museums, cinemas, etc.
If you wish to obtain advance ticket from abroad, ticket order form is here. (PDF/37KB)

For any inquiry regarding the ticket, please contact our Festival Office.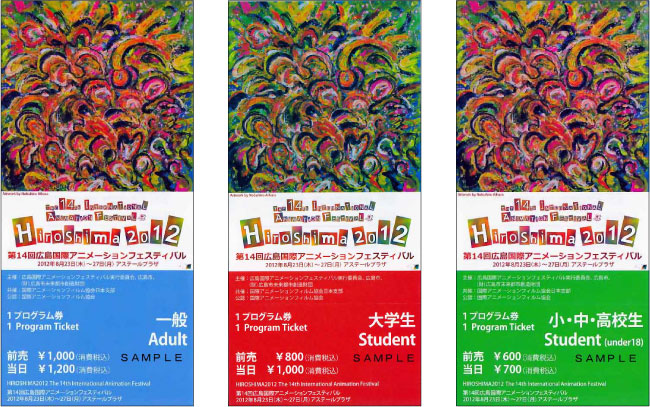 Division
Advance ticket
Ticket at the door
For 1 Program Ticket
Adult
1,000yen
1,200yen
University student
800yen
1,000yen
Elementary/Junior/High school
students
600yen
700yen
Discount on a party ticket (15 pieces or more)
10% off of the above-mentioned each charge

Division
Advance ticket
Ticket at the door
1 Day Pass
Adult
2,500yen
3,000yen
University student
2,000yen
2,400yen
Elementary/Junior/High school
students
1,500yen
1,800yen
Discount on a party ticket (15 pieces or more)
10% off of the above-mentioned each charge

Division
Advance ticket
Ticket at the door
All Programs Pass
Adult
10,000yen
12,000yen
University student
8,000yen
10,000yen
Elementary/Junior/High school
students
6,000yen
7,000yen
Discount on a party ticket (15 pieces or more)
10% off of the above-mentioned each charge