International Honorary President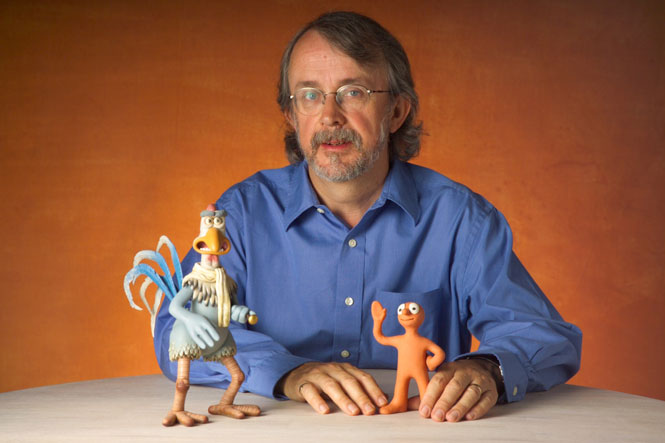 Peter Lord – our International Honorary President !
Greetings. It is a great pleasure and a great privilege to be invited to write this message as the Honorary President of HIROSHIMA 2012. I thank Sayoko Kinoshita and all her team for this great opportunity.
The message is a personal one. For the past five years, I' ve been immersed in directing a feature-length animated film. You can imagine that it' s an enormous task of great complexity, made possible by the support of hundreds of talented artists and technicians.
But there' s been another side to this endeavour: the process is so demanding and time-consuming that it is the only thing that I' ve been able to focus on for the last five years. In immersing myself so completely in one world, I have inadvertently exiled myself from another –the world of independent, international animation – the world which will be open and available to all in HIROSHIMA 2012.
For the participants and for the public alike, the festival is an opportunity to meet colleagues, students, animators, artists and enthusiasts of all ages, and to share with them the joys and the challenges of our ever-changing medium. Because animation, however it' s achieved and wherever it' s shown has this amazing potential: to leap across cultural barriers, to communicate - often without words - and indeed to be a true international language.
At the Hiroshima festival, all cultures are valued, innovation flourishes and I' m delighted to say that youthful energy continually challenges the assumptions of older generations.
For me, personally, and to many of you, I believe that returning to HIROSHIMA 2012 will truly be like coming home.




Peter Lord


International Honorary President





PETER LORD is co-owner and Creative Director of Aardman, which he co-founded with his long-time collaborator David Sproxton in 1972. As a director, Lord has been honoured with two Academy Award® nominations for Best Animated Short, the first in 1992 for "Adam", and again in 1996 for "Wat' s Pig". He has also earned BAFTA nominations for "Adam", "The Amazing Adventures of Morph" and "War Story".
In 2000, Lord teamed up with Nick Park to co-direct Aardman' s first full-length feature "Chicken Run", starring the voice of Mel Gibson, which was a commercial and critical smash. Lord also produced the Oscar-winning first feature length film starring Wallace and his faithful canine sidekick Gromit. Wallace and Gromit "The Curse of the Were Rabbit" was released in 2005.
Lord first met David Sproxton in the early 1970s at school, where they started experimenting with animation techniques on their kitchen table. They tried a range of methods before settling on plasticine/clay model animation. While they were still in their teens, a BBC children' s television producer offered them the chance to make short animated films for his program Vision On. Their first character as professionals was Morph, who later starred in his own series "The Amazing Adventures of Morph". As a testament to Morph' s enduring appeal, he still appears in new productions today.
Moving to Bristol in 1976, Lord and Sproxton built Aardman into one of the world' s leading model animation studios. In 1978, Aardman was commissioned by BBC Bristol to make two short films entitled "Animated Conversations". The resulting "Down and Out" and "Confessions of a Foyer Girl", both co-directed by Lord and Sproxton, broke new ground in animation by using recordings of real-life conversations. That led to a series of five "Conversation Pieces" for the UK' s Channel 4, all of which were co-directed by Lord and Sproxton, including "Early Bird" and "On Probation". Expanding into music videos, Aardman collaborated with director Stephen Johnson and the Brothers Quay to create Peter Gabriel' s award-winning video "Sledgehammer". In 1987, Lord created the video for Nina Simone' s "My Baby Just Cares for Me". Two years later, Channel 4 again commissioned Aardman to create the five-picture "Lip Synch" series, which included Lord' s "War Story". Lord' s other directing credits include "Going Equipped" and "Babylon". Together with Sproxton, Lord has also played a major role in encouraging and promoting new directors. His executive producer credits with Aardman include "Creature Comforts", "Rex The Runt", "HumDrum" and "Stage Fright" and more recently, "A Matter of Loaf and Death".
Aardman' s special brand of animation has also been seen in TV commercials in various countries for such products as far ranging as Chevron, Lurpack, Mita Copiers, Cadbury' s Crunchies and Polo.
Lord was involved in the production of Aardman' s first CGI feature film "Flushed Away" which was produced in collaboration with DreamWorks in Glendale LA. It was Aardman' s first foray into CGI and was released worldwide at the end of 2006. Peter is currently directing "The Pirates! Band of Misfits".
Peter Lord is a visiting professor at UWE and also attends numerous animation and film festivals to give talks and sit on jury' s.
In 2006 Peter Lord and David Sproxton celebrated 30 years of Aardman and were awarded CBE' s in the Queens Birthday honours list.