HIROSHIMA 2012 Official Poster
 
Official Poster "Forest"
Artwork by Nobuhiro Aihara, Designed by Dino Sato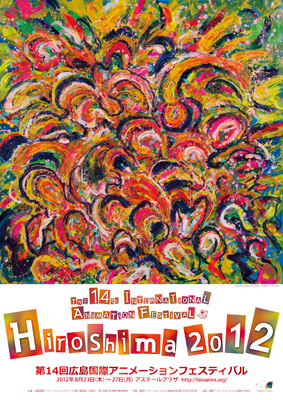 Nobuhiro Aihara (1944 - 2011) was a very prolific, talented animation filmmaker, who also served as the Professor at Kyoto University of Art and Design, and a Board Member of ASIFA-JAPAN.



After graduating from a design school in Tokyo, Aihara started his career in the field of TV animation from around 1965.
While being in charge of animation and key animation at a production company, he started to create his own independent works. He has been making and releasing a number of animation works.
From around 1975, he started to hold his animation one-man show in Tokyo and Kyoto. And from around 1980, he started to hold his exhibition in Sweden, Denmark, France, Germany, Czech Republic, etc., as well as his painting exhibition in Tokyo and Kyoto. Since then, he has been holding many animation one-man shows in Japan and abroad. From around 1990, he started to hold a number of animation workshops (Sweden, India, Osaka and Hokkaido) besides those shows. He served as a member of the international selection committee of the 5th International Animation Festival HIROSHIMA'94.

[Invitation Screenings]
Canada, France, Germany, Finland, U.K, India, China etc.
[Publication]
"How to Make Animation" Edited by Japan Animation Association, 1980, Shufu To Seikatsu Sha Co.,Ltd.
[Public Collection]
Yokohama Museum of Art
Kawasaki City Museum
Fukuoka Prefectural Museum of Art
Cinémathèque Québécoise(Canada)
Gothenburg Film Center(Sweden)
Asagaya College of Art and Design