International Jury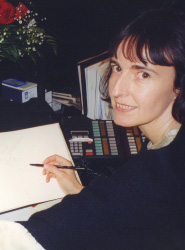 Aleksandra Korejwo
Poland





Animated films director, painter, script writer, animator, producer.
Korejwo's style of animation is a unique technique of colored salt manipulation with the use of a Condor feather. She gets her inspiration from poetry, music and nature.
She graduated with distinction in Animated Film Directing from the Academy of Fine Art in Poznań , Poland.
For several years she lectured at the Department of Psychophysiology of Perception and Visual Structures at the Academy of Fine Art in Poznań.
She has been creating her artistic and advertising films in Poland and abroad including the Television Studio of Animated Films in Poznań, Acme Filmworks in Los Angeles...
Films made by Aleksandra Korejwo have been shown and awarded prizes all over the world.The film entitled The Swan has been awarded the Grand Prix at the International Film Festival in Shanghai, The Title Sequence of a feature film "The Wonderful Ice Cream Suit" for Walt Disney Pictures was nominated to the prestigious Anny Awards in Los Angeles...She receive First Place Award for the film "Carmen Torero" at The World Animation Celebration in Los Angeles ,Award of Exellence for the Film "Butterfly" (United Airlines 2009) and many others including nominations and Awards : "CLIO" , "London International Adversting","The Best of The World", "Anny Awards"...
The Film entitled "Fryderyk Chopin' s WALTZ" was screened in The Best of The World at the International Animation Festival , Hiroshima 2010.
In 2011 she finished the Film entitled "Jubilee Concerto" (70 minutes) to the Fryderyk Chopin' s music.
Aleksandra Korejwo' s films received a total of approximately 50 awards , distinction and nominations at domestic and international festivals.
Her films made to classical music are especially valued by audiences.
She was a member of the jury at many international animation festivals, such as held in Lucca, Madrid, Annecy ,Oslo,Poznań.... ASIFA member.
Enchanted by the nature of Puszczykowo (Poland) and its surroundings areas , she lives and works there.
Her motto:
"We discover the Creator in the wisdom and beauty of nature".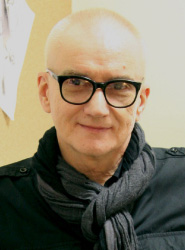 lgor Kovalyov
U.S.A





lgor Kovalyov is an Internationally acclaimed filmmaker, designer, animator, and director. His short films "Andrei Svislotski," "Hen, His wife," "Bird in the Window," "Flying Nansen" and "Milch" have received numerous awards and accolades throughout the animation and film community.
Born in Kiev, Ukraine, Kovalyov was the co-founder of Moscow's legendary Pilot School of Animation. The studio also housed some of the most brilliant artists in Russia including many of the current Klasky Csupo designers and animators.
In 1991, Kovalyov accepted an invitation to work at Klasky Csupo's studio in Hollywood. In his time there, Kovalyov co-directed Klasky Csupo's first feature film, "The Rugrats Movie" and has directed the television series, Aaahhl!! Real Monsters as well as episodes of Duckman and Rugrats, commercials and internet shorts.
Prizes for independent films are listed below, following the name of the film they were awarded to.
"Hen, His Wife"
Ottawa Intl. Animated Film Festival 1990 - Grand Prize and Best Film in Category B
Tough Eye, Turku Intl. Animation Festival 2001 - Grand Prize
The Second Shanghai Intl. Animation Festival 1992 - Special Jury Prize
Intl. Animation Film Festival "Krok" Kiev 1990 - Best Film in Category
Intl. Du Film Cannes 1990 - Official Selection
"Andrei Svislotsky"
Tough Eye, Turku Intl. Animation Festival 2003 - Special Jury Prize
Intl. Film Festival in Krakow "Europa 92" - Silver Dragon
Intl. Film Festival Oberhausen 1992 - Best Experimental Film
Intl. Animation Film Festival "Krok" Kiev 1991 - Best Film in the over 15 minutes category
"Bird in the Window"
Ottawa Intl. Animated Film Festival 1996 - Grand Prize
STIGES Fantasy Film Festival 1996 - Best Animated Short Film
Intl. Animation Film Festival "Krok" Kiev 1997 - Best Film in Category A
"Frying Nansen"
I Castelli Animati 2000 - Grand Prize
World Animation Celebration 2000 - Special Jury Prize
Hiroshima 2000 - Special Jury Prize
Holland Intl. Film Festival Utrecht 2000 - Special Jury Prize
Ottawa Intl. Animated Film Festival 2001 - Special Prize
Intl. Animation Film Festival "Krok" Kiev 2001 - Special Jury Prize
"Milch"
Ottawa Intl. Animation Film Festival 2005 - Grand Prize for independent Animation
Cinanima Intl. Animation Film Festival Espinho 2005 - Grand Prize
Seoul Intl. Cartoon and Animation Festiva1 2005 - Grand Prize in Short Film category
Intl. Animation Film Festival "Krok" Kiev 2005 - Grand Prize
Intl. Festival Animated Dreams Tallin 2005 - Grand Prize
I Castclli Animati 2005 - Special Jury Prize
Norwich International Animation Festival 2005 - Best Short Film
Hiroshima Intl. Animation Festival 2006 - Grand Prize
Russian Animation Festival, Suzdal 2006 - Grand Prize
Stuttgart Intl. Festival, Trickfilm 2006 - State of Baden, Wurttemberg Award
Brussels Intl. Film Festival, Anima 2006 - Award for Best Animated Short
Intl. Animation Festival, Animafest 2006 - Special Jury Prize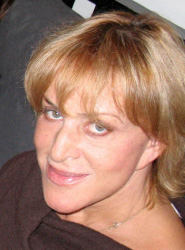 Irina Margolina
Russia





Scripter, Playwright, Director, Heаd of studio "M.I.R"
Education: Moscow University of Graphic Arts, editorial department
Visiting professor at the University of Fairfield, Connecticut (USA) and School of Visual Arts, New York (USA)
Member of International Juries on a number of festivals
Member of the Cinematographers' Union of Russia
Member of the Scriptwriters' Guild
Scripter for television programs, publicity films, theatre
Scriptwriter and producer of animated films
Scriptwriter, Director, Producer of documentaries
Film directing for TV and cinema
RECENT PROJECTS
"Tales of the Old Piano" The international series of 13 animated films, 13 min. each, the history of classical music for children. Includes the films about Mozart, Bach, Beethoven, Vivaldi, Rossini, Prokofiev and Tchaikovsky, etc. Each tale is made in its own graphic technique depending on the character of the composer, his music and his century. The project has a considerable educational significance. The artistic execution of the series is recognized all over the world. The films series received a number of prizes and diplomas (including Grand-Prix at Cinanima, at Trebone), were nominated for Russian Film Academy Award twice and were purchased by the LOUVRE museum in Paris for children audience demonstration purposes. Russian channel Kultura (Culture) bought the screening rights for the films.
"KOAPP" A science-adventure series for 4-7 year old kids. At the moment 4 episodes are ready, 2 are in production, and over 40 episodes are on their way. The two most recent films – "The Last Day of Termitea" and "My Fair Nanny" – has received several prizes from the international festivals, and got a wide recognition around the word for it's ecological, nature-oriented topicality and educational emphasis. Both films were awarded the Best Animation prize at the Cinemarina 2011 film festival in Turkey.
"Contemporary Tales of the World" Animation. 4 films (Studio M.I.R., Russian and Weston Woods-Scholastic, USA). The series includes the new interpretations of well-known tales, like "Red-Riding Hood" and "The Story of the Three Little Pigs," as well as some new ones ("Wallace's Lists"), basing on the books by American publishing house "Scholastic." "The True Story of Three Little Pigs" has received a number of Grand-Prixes, including Monstra Film Festival in Portugal, Russian Academy Awards (Golden Eagle and Nika). Psychologists say that "Wallace's Lists" is one of the best animation films for children.
"The Animated Century"
Almost complete video history of world animation.
"Animation From A to Z " - 52 films, 26 minutes each.
A TV series about the history of Russian animation.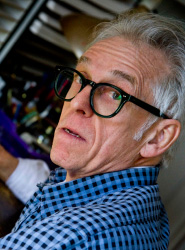 Marv Newland
Canada





Marv Newland' s animated motion picture career began in Los Angeles with the creation of the short BAMBI MEETS GODZILLA (1969). He designed and animated television commercials until late 1970 and moved to Toronto, Canada.
While in Toronto (1970-1972) he designed, directed and animated television commercials, IDs for Sesame Street and Educational Television, and segments for longer films. Newland was also one of two designers and storyboard artists on the Cinera Productions animated cartoon SUPER JOE (1971). He was storyboard designer on an unemployment insurance film at Crawley Films in Ottawa, and created designs and layouts for TV commercials at Phos-Cine Productions in New York.
In late 1972 Newland moved to Vancouver, Canada. He spent two years freelancing for local animated film production companies and animation companies in Chicago and Los Angeles. In 1973 Newland created storyboards for the animated television series BARBAPAPA at Toonder Studios in Holland.
In 1975 Newland founded the animated film production company INTERNATIONAL ROCKETSHIP LIMITED in Vancouver. At Rocketship he directs and produces animated short films including: SING BEAST SING (1980), ANIJAM (1984), HOORAY FOR SANDBOX LAND (1985), BLACK HULA (1988), PINK KOMKOMMER (1991), FUV (1999), BEIJING FLIPBOOK (2003) and POSTALOLIO (2008). The company also produces short animated films for other directors such as Danny Antonucci (LUPO THE BUTCHER, 1986), and J. Falconer (DOG BRAIN, 1988). Newland also designed and directed: BILL MINER (1978), TETE A TETE A TETE (2005), and CMYK (2010), animated shorts for the National Film Board of Canada.
Rocketship also produces TV commercials; IDs for MTV, YTV, NICKELODEON and LOCOMOTION; pilots for series; and longer films such as – GARY LARSON' S TALES FROM THE FAR SIDE (1994), [Grand Prix, Annecy International Animation Festival 1995]. Rocketship designed and animated sequences for DREW CAREY' S GREEN SCREEN SHOW for Acme Films/Garden Suite Productions (2004).
Outside of Rocketship Newland has freelanced for other animation companies including directing episodes of the 3D stop motion series, THE PJS, for Will Vinton Studios in Portland, Oregon: THE PREACHER' S LIFE (1999), FEAR OF A BLACK RAT (1999), and LET' S GET READY TO RUMBA (2001). For Studio B Productions, in Vancouver, he designed characters for the BEING IAN animated television series (2004/2005).
Marv Newland is an animation instructor at Vancouver Film School and University of the Fraser Valley in Abbotsford, British Columbia. He is currently animating a personal film, SCRATCHY.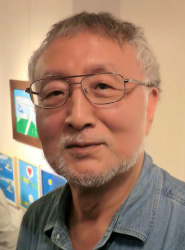 Kosei Ono
Japan





Born in Tokyo. Graduated from the Department of Humanities, International Christian University of Tokyo in 1963. From 1963 to 1974, worked at NHK, involving in the production of radio and television programs for their Educational and International Division. Then, he started working independently as critic and researcher of cinema, animation and comics. Starting with his interview with Norman McLaren during his visit to Japan in 1970 (this interview is included in his first work, "Wanna Be Batman", published in 1974), he came to interview many international animation fimmakers, which were later compiled in a book, "Masters of Animated Films" (2006). This is a collection of interviews with 15 animators from around the world, including Karel Zeman, Paul Grimault and René Laloux. During the 1980s, he traveled many times to Shanghai to visit Shanghai Animation Film Studios, where he interviewed the father of Chinese animation, Wan Lai Ming. This was later published as a book, "History of Chinese Animated Films" (1986). This book is still the only full length study on this theme in the world today. His other publications include research papers on overseas comics such as "The World Image of Donald Duck" (1983), and translations and introduction to Japan of many overseas comics, including Art Spiegelman' s "MAUS" "MAUS II" and Joe Sacco' s "Palestine". For these achievements he was awarded the Tezuka Osamu Cultural Prize Special Award in 2006. He is a critic of cinema and manga, visiting professor at Department of Asia, Kokushikan University, Tokyo. Member of ASIFA JAPAN and the Japan Science Fiction Writer' s Club. He is also a hot air balloon pilot.