Hiroshima Animation Workshop 2015 held successfully!
Children in Hiroshima enjoyed during summer holidays to create their own animation under the instruction of professional animation filmmakers!
Their completed work will be shown in one of official programs of HIROSHIMA 2016.
Hiroshima Animation Workshop 2015 - Screening of the completed work "Don't Take Our Animation Festival!!"
| | |
| --- | --- |
| Time and Date | December 5th, 2015 / 2:00 pm - 3:00pm |
| Place | Seminar room, 7th floor of JMS Aster Plaza |
During the four day animation workshop held from July 21st through 24th, children worked together to create a two minute animation short "Don't Take Our Animation Festival!!", which was finally completed with music and sound effect recently. Children were pleased to appreciate the completed work together with their friends and family.
Children were happy to see that their intensive work actually turned into an animation. Many participants said, "Our completed work was great, because we worked hard.", "We gained a sense of achievement by animation filmmaking.", "We could understand that it was tough to make an animation." etc.
"Don't Take Our Animation Festival!!" will be shown as part of official programs in HIROSHIMA 2016, which will be held from this August 18th (Thu.) to 22nd (Mon.).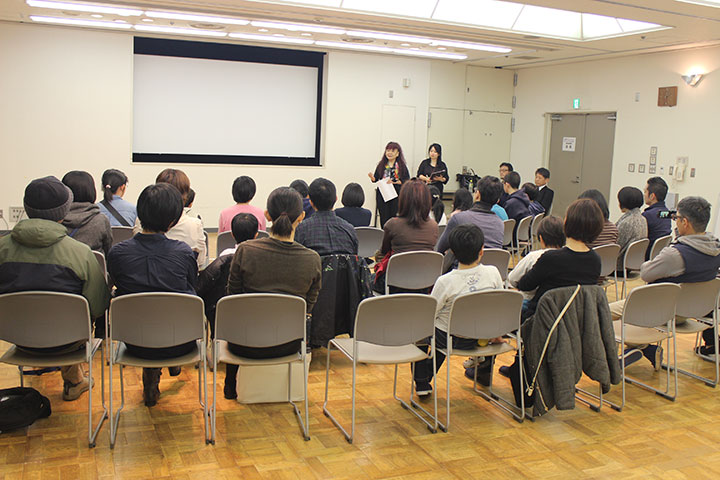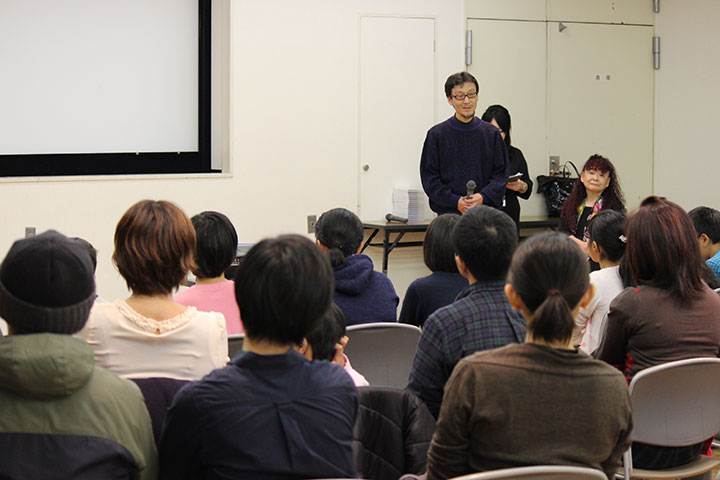 At the Seminar room, JMS Aster Plaza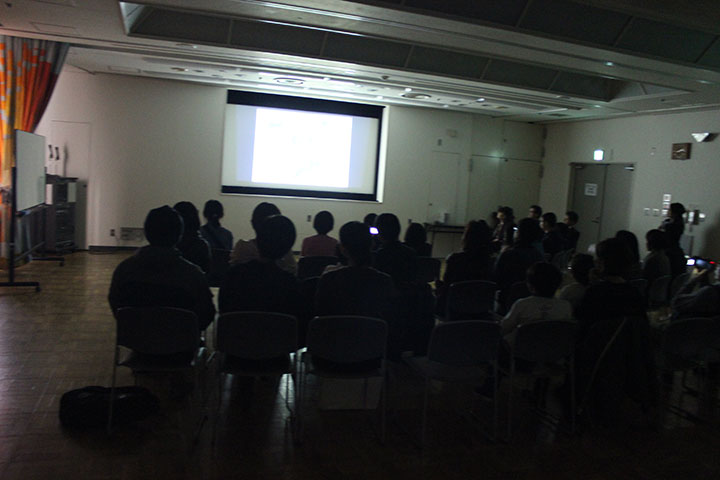 Screening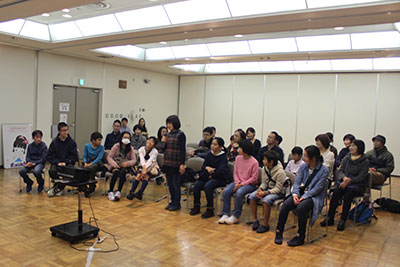 Interviewing to participants
Details of Hiroshima Animation Workshop 2015
Time and Date
July 21st – 24th, 2015 / 10:00 am – 5:00pm
Place
The training room on the 7th floor of JMS Aster Plaza
Participants
5th-grade to 9th-grade students
Instructors

1. Animation


Sayoko Kinoshita (Animation Director/Producer)
Festival Director of Hiroshima International Animation Festival, Visiting Professor at Osaka Univ. of Arts


2. Camera


Dai Yagi (Animated Film Designer)
How was the workshop?
This time, 13 students of 5th to 9th grade took part in the Animation Workshop 2015.
For most students, this was their first time to create an animation. They worked hard together for all the 4 days to make out a 2-minute animation - creating the story, designing characters, drawing animation one by one, coloring and then, shooting them.
When their animation was previewed finally at the end of the fourth day, students were so thrilled and excited with joy watching it.
The work is titled "Don't Take Our Animation Festival !!"
In December, we plan to have an opportunity to present the completed work inviting all the participants. Also, in August this year, this work will be shown officially at the large hall of festival venue in HIROSHIMA 2016.
Workshop Process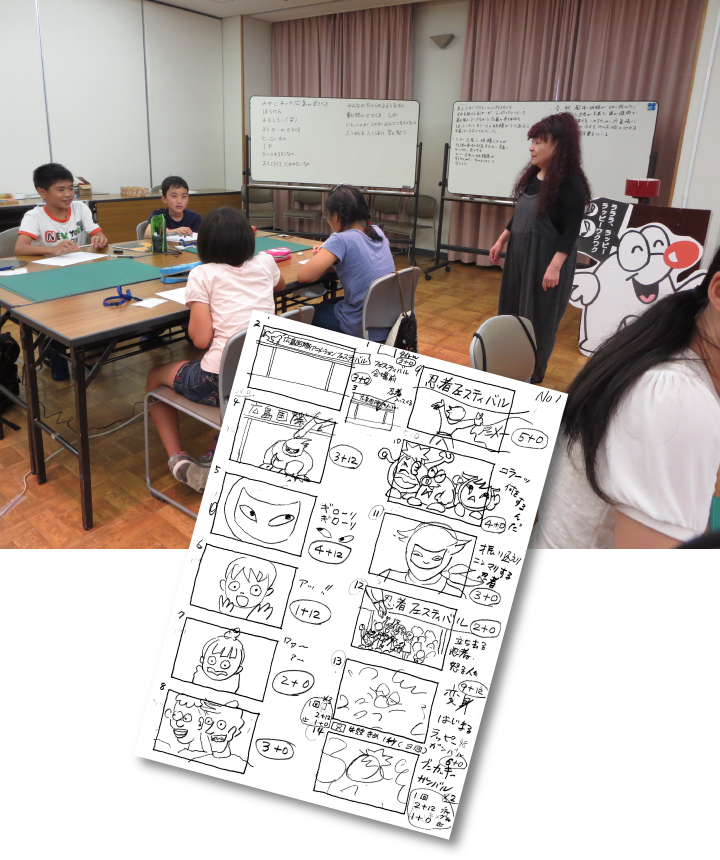 Creating a story
(Ms. Kinoshita teaching with enthusiasm)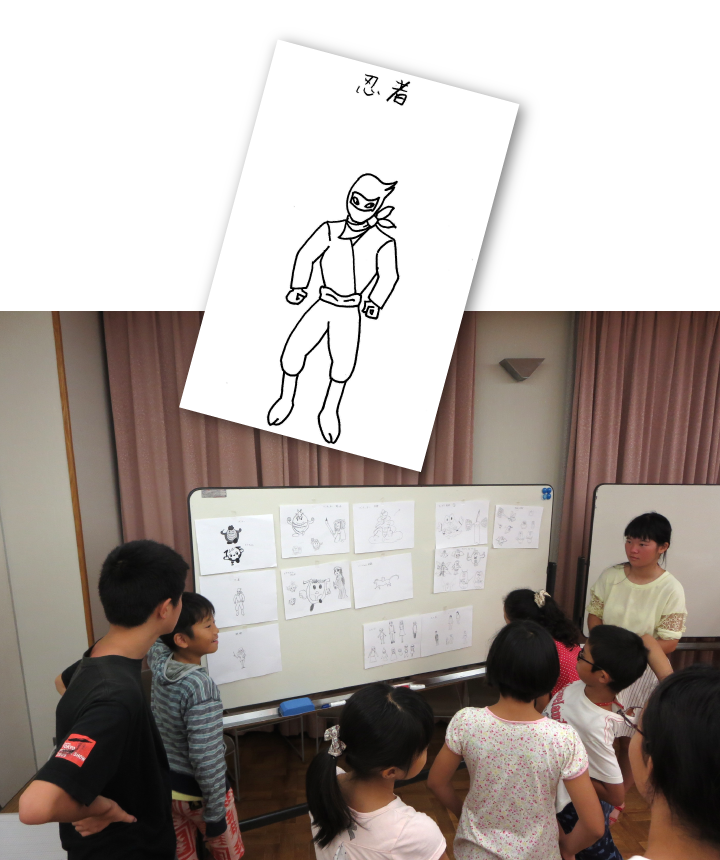 Designing characters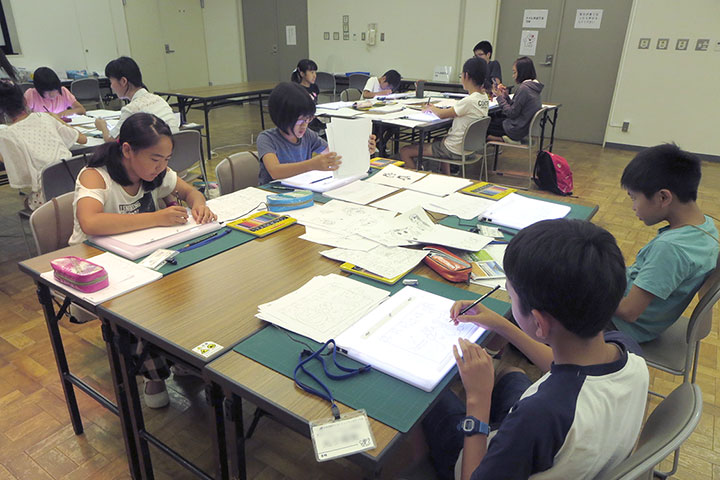 Drawing animation one by one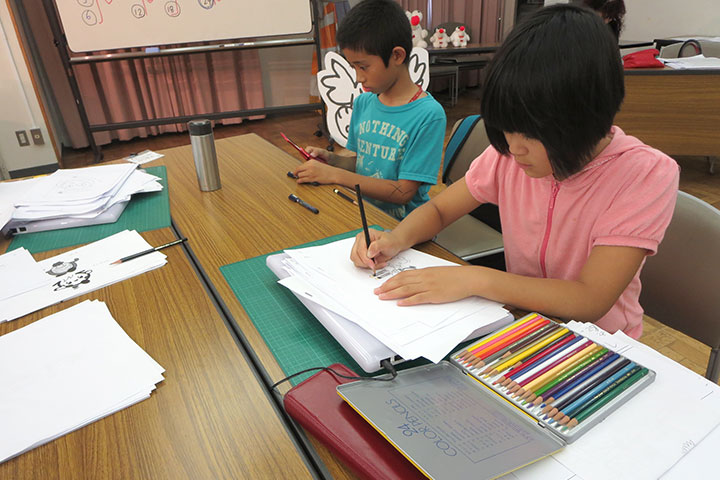 Coloring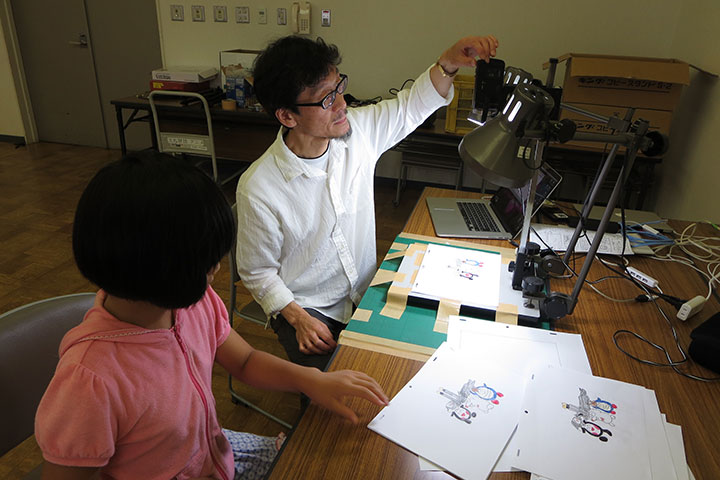 Shooting (Mr. Yagi)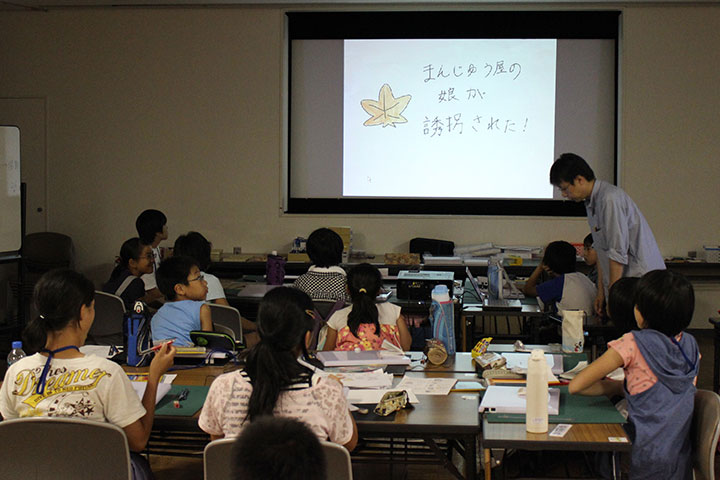 Previewing!!