International Jury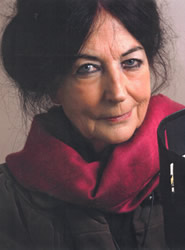 Inni Karine Melbye
Norway





Graphic Designer, Animation Director, Lecturer at Design School of Copenhagen
Inni Karine Malbye was born in Oslo, in the year of "Snow white", which is the very first animation in her life. She was educated in graphic arts and design in Copenhagen, Denmark, and started her career in Norwegian Broadcasting (NRK) in the first TV graphic design unit in 1963. In 1966, Melbye moved to Canada to work as a designer in the graphic arts section at the Canadian Broadcasting Company, where she stayed for 11 years. During these years, she was educated in animation under Hubert Tison, director of CBC's animated spots. As a designer, her "Love of Animation" started with, animation, "Yellow Submarine" in1973, which forever influencing her graphics and animation for television.
In 1975, during the Annecy festival, Melbye was asked to join the board of ASIFA, as the second woman ever with Nicole Salomon. After the Canada years, she moved back to Europe to become a post-graduate at London School of Art and Design, studying under master in animation, Bob Privett. Later, she was invited to Atelier A.A.A. in Annecy, where she got involved with animation workshops, a work that inspired her to organize filmworkshops in Scandinavia.
In 1983, Melbye directed the animated short "The Journey to the Planet Nazar". She also directed and animated the first animated children ident for NRK, which aired daily for several years. In the nineties, she worked as a freelance animator and designer, with among others Michel Ocelot, and contributed on such productions as "Ciné Si" and "Princess et Princesses". Over the years, she has been teaching the art of animation to students, at Art-schools and in workshops in Scandinavia as well as in France and England.
At present, an exhibition of her artwork is held at The Cinema house in Oslo, Norway. In her opinion, the art of animation has two main pillars: "Passion and Patience"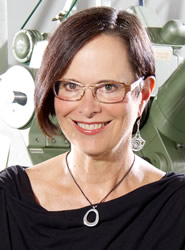 Joanna Priestley
U.S.A.





Filmmaker
Joanna Priestley has directed, produced and animated 26 films (and an iOS app) about subjects dear to her heart: abstraction, relationships, botany, menopause and prison. Her work has been recognized in film festivals all over the world, including the Seoul International Cartoon and Animation Festival (First Prize), National Educational Film Festival (First Prize), National Independent Film and Video Festival (Grand Prix), Big Muddy Film Festival (Best of Festival), Canadian International Animation Festival (Special Merit Award) and the Athens Film and Video Festival (First Prize). A documentary about her work was featured on PBS and BBC2 and she has had retrospectives at the Museum of Modern Art (New York), Center for Contemporary Art (Warsaw, Poland), REDCAT (Los Angeles, CA), Stuttgart Animation Festival (Stuttgart, Germany), Masters of Animation Festival (Thiruvananthapuram, India), American Cinematheque (Los Angeles, CA) and on PBS (USA) and BBC2 (UK).
Priestley studied at Rhode Island School of Design, and at University of California at Berkeley, where she received a Bachelor of Arts Degree with Honors. She received an MFA Degree and the Louis B. Mayer Award from California Institute of the Arts. She has been awarded three fellowships from the National Endowment for the Arts and fellowships from the American Film Institute, Oregon Arts Commission, MacDowell Colony, Fundación Valparaíso in Spain and was the recipient of the Media Arts Fellowship from the Regional Arts and Culture Council and the POW Fest Pioneer Award (2014). Priestley is a member of the Academy of Motion Picture Arts and Sciences and was the founding President of ASIFA Northwest. She also enjoys medicinal herbalism, boating, forest hikes and Burning Man. DVDs of her films are available at http://www.primopix.com.

Filmography:
"Split Ends" (2013), "Dear Pluto" (2012), "Rumpy Pumpy" (2013), "Choking Hazard" (2011), "Out of Shape" (2011), "Eye Liner" (2011), "Missed Aches" (2009), "Streetcar Named, Perspire" (2007), "Extended Play" (2007, Installation), "Dew Line" (2005), "Andaluz" (2004, Co-directed with Karen Aqua), "Surface Dive" (2001), "Kali Yuga" (2000) , "Utopia Parkway" (1997), "Making Peace" (1996, Television Series Title), "Hand Held" (1995), "Grown Up" (1993), "Pro and Con" (1993, Co-directed with Joan Gratz), "After the Fall" (1991), "All My Relations" (1990), "She-Bop" (1988), "Candyjam" (1988, Co-directed with Joan Gratz).
Music Video Segments: Sequence director/animator for Blashfield and Assoc. "Good Friends" (Joni Mitchell, 1985) and "Sowing the Seeds of Love" (Tears for Fears, 1988) "Times Square" (1986, Co-directed with Jules Engel), "Jade Leaf" (1985), "Voices" (1985), "The Dancing Bulrushes" (1985, Co-directed with Steven Subotnick), "The Rubber Stamp Film" (1983)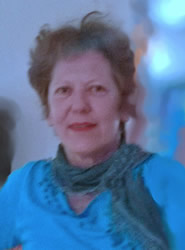 Baerbel Neubauer
Austria





Visual Music Artist, Filmmaker, Composer
Baerbel Neubauer was born in Klagenfurt, Austria. She studied stage design and film at the Hochschule fur Angewandte Kunst in Vienna. In 1987, she moved to Munich, Germany.
Since 1980, Baerbel Neubauer made over 40 films and visual music works. From 1991, on music and scores. She made animation films, short subjects and experimental films and composes music and film music . She has been working in various formats such as 35mm film, 70mm IMAX film, 3 channel HD video for 3 monitors/screens. At present she works on Visual Music with various media - images, animationfilm, music, stage design and performance. Her animations from the 90's are mainly abstract "direct-on-film" works, that she painted, stamped and scratched on 35mm film stock directly. From 2000 on she worked on digital, fractal "motion painting in image and sound", first creating among others "Flockenspiel I-IV" in different techniques. In 2005, it was awarded the "women's cultural award for film and TV" from the country Carinthia/Austria. Her latest films are "Fractal Cycles", 2011, a large space with nature-like fractal 3D motion paintings and fractal soundscapes and music, and "Water Ambiences", 2011-2014, a 3-channel HD video as installation. In the 3 channel medium, the fractal universes communicate with each other in a new, interactive space. Also new are the stage designs "Bildklang 1" and "Bildklang 2", 2013, for the stages of "Musikforum Viktring", an international music festival in Austria. Her concept "Fractals in Nature" is the base of her artwork and for her workshops and presentations. Current works in progress are a series of movies "Drum Patterns", and a Music DVD "SippiSaa" with dance music, as well as "emdr Klaenge 2" (working title) an audio CD with music for therapists. Her films were screened at numerous international Animation/Film Festivals and received international recognition. In the recent years, her works were screened and exhibited also in galleries and museums.
http://www.spiralsmorphs.de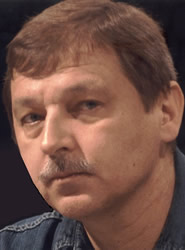 Joško Marušić
Croatia





Animation Director, Professor at Academy of Fine Arts in Zagreb
Joško Marušić was born 1952, in Split. He graduated at the Faculty of Architecture of the University of Zagreb.
Since then, he has been active in several art media (cartoon, caricature, illustration, literature, film production and television), but his interest have been focused on animation as an author, professor, theoretic and producer.
From 1982 to 1989, he worked in Zagreb Television as an editor. He was art director in the Studio "Zagreb film" from 1987 to 1990 and from 1995 to 1998. From 1993 to 1998, he acted as chairman of the Croatian Independent Artist's Association.
From 1992 to 1998, he was Program director of the World Festival of Animated Films in Zagreb. From 2000 to 2006 he was president of the Council of the festival.
In 1999, he has established and served as principal of the Department of Animation at Academy of Fine Arts in Zagreb. As professor he has three theoretic subjects for students and he is tutor. He is visiting professor on a few universities in Europe. He was member of many jurries on festivals of short films.
In several croatian newspapers and magazines, he has permanent cartoon-columnus, and columnus about theory of animation.
He edited several books, and had four big exibitions of his artworks.
He is most known as author of animated films. For his animated films, he won many awards on the most important festivals (Annecy, Zagreb, Varna, Ottawa, Oberhausen, Madrid, Belgrade, etc.).
His most important films are: "Inside and Out" (1977), "Perpetuo" (1978), "Over there" (1985), "Face of Fear" (1986), "Home is the best" (1988), "Wind will turn" (1990), "ZOO ZOOM" (1994), "Miss Link" (2000), "In the Neighbourhood of the City" (2006). His films "Fisheye" (1980) and "Skyscraper" (1981) were selected as outstanding films of the year at the London film festival, and represent the best of Zagreb school of animation. Theoretic and critic Gianalberto Bendazzi selected his film "I love You, too…" (1991) in collection "The best 84 films in the history of animation".
In 2010, he produced feature animation film "The Rainbow".
He is just in postproduction of his new film "Why they came by Train".
He lives in Zagreb, Croatia.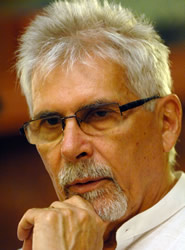 Ferenc Mikulás
Hungary





Managing Director, Producer, Festival Director
Born in 1940. From 1970, Ferenc Mikulás was getting acquainted with animated cartoon films at the Pannonia Film Studio, and since 1971, he has been the Head of the Kecskemét Animation Studio. Since 1995 - after a successful privatization process – the Studio has been owned by its own artists and employees. The teams consist of 20 full-time employees and generally about 100-150 free-lance artists, who accomplish the full process of both 2D and 3D film making. Now Kecskemétfilm is the oldest and biggest animation film studio in Hungary.
Several series and short films were produced on the base of his idea, e.g. "Hungarian Folk Tales". The episodes of this series were screened 140 times in the programme of different international film festivals, and were awarded by e.g. Chicago International Children's Film Festival. The film rights were sold in 40 countries. Kecskemétfilm entered the world of international co-productions and played a significant part in an animated feature film "A Monkey's Tale" produced in British-German-French-Hungarian co-production.
Within the scope of the international scholarship system started by Mikulás, students arrived to Kecskemét Animation Studio from Holland, Belgium, Canada, Germany, USA, Schwitzerland, Island, Bulgaria and Romania.
Since 1993 Mikulás has been the Director of the Kecskemét Animation Film Festival (KAFF) which was started on his initiative. "KAFF" became an international festival in 1996 by inviting the European animated features and TV Specials into the competition. During the last 20 years it developed into the most important biennial animation event in the region.
Between 1997-2000 he was a member of the Board of Directors of ASIFA (Association of International Animation Film Artists).
He was member of jury at several festivals in the world, such as Chiavari (Italy), Seoul (South-Korea), Ankara (Turkey), Beijing (China), Łódź (Poland), Târgu Mures (Romania), Stuttgart (Germany), Jaipur (India) and Lisbon (Portugal).
At present Mikulás is the Managing Director of Kecskemétfilm Ltd., the Producer of the films made in this studio and the Director of the Kecskemét Animation Film Festival.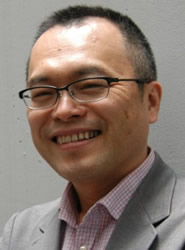 Koji Yamamura
Japan





Animation Filmmaker
Professor at Tokyo University of the Arts, Graduate School
Koji Yamamura, born on June 4, 1964 in Japan. He graduated from Tokyo Zokei University in 1987. In 1993, he founded Yamamura Animation, Inc. "Mt. Head" (02) was nominated for an Oscar® in 2003, and awarded the 6 Grand Prix include Annecy 03, Zagreb 04 and Hiroshima 04. "Franz Kafka's A Country Doctor" (07) awarded the Grand Prix at Ottawa. He is first grand prix winner in all major international animation film festivals. He is awarded Best Director-Animation Film from Chicago International Children's Film Festival, Distinguished Artist Award of 2006 Asian Animation Film Festival Columbia College Chicago, ALBÍN BRUNOVSKÝ HONORARY MEDAL from Biennial of Animation Bratislava and 30th Kawakita Prize.
His films' DVDs are published in Japan, USA, Canada, France and Korea.
A professor of department of Animation, Graduate School of Film and New Media, Tokyo University of the Arts since 2008.

Brief Filmography :
Suisei (Aquatic) 1987 / Hyakka zukan (Japanese-English pictionary) 1989 / Enkinhou no Hako (Perspektivenbox researcher's search)1990 / Ouchi (A House)1993 / The Sandwiches 1993 / Ame no hi(Imagination)1993 / Pacusi1994 /Kipling Jr.1995 / Kid's Castle1995 / Bavel's Book 1996 / Dottini suru ?(Your Choice ! ) 1999 / Atama Yama (Mt. Head) 2002 / 0make (Pieces) 2003 / Winter day 2003 / Toshi wo totta wani (The Old Crocodile) 2005 / Fig 2006/ Kafak Inaka Isha (Franz Kafka's A Country Doctor) 2007 / Kodomo no Keijijogaku (A Child's Metaphysics) 2007 / Muybridge's Strings 2011