Bulletin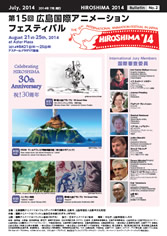 Download Bulletin documents.





Bulletin No.2 (PDF/A4/4pages/1.6MB)


No.2 Contents
All Programs released
International Jury Members
HIROSHIMA 2014 Program Schedule at Aster Plaza
Frame In, Nexus Point
Educational Film Market
Being on a Selection Committee
The Festival Eve, Parade & Pre-Screening
Admission Fee, To Aster Plaza (Festival Venue)


---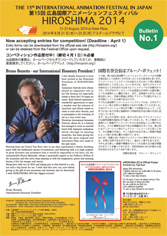 Download Bulletin documents.





Bulletin No.1 (PDF/A4/2pages/753KB)



No.1 Contents
Bruno Bozzetto – our International Honorary President !
CALL FOR ENTRIES! (Deadline: April 1)
International Selection Committee Members
Special Programs(subject to change)
Free Spaces for Promotion and Exchanges
Educational Film Market
Message of Festival Director
Bulletin No. 2 will announce...




 Get Adobe Reader to view documents