Forum
Educational Film Market
The Educational Film Market is the only market in the world that works to enrich the educational field as well as to discover new young talent.For young people who aim to become professional animation filmmakers, it provides a space to promote their talents and gain chances to work internationally. Animation schools, colleges, universities, and other organizations can publicize their programs and find new students. We hope you will use the Educational Film market to meet your own individual needs.
At the Festival this time, major animation educational bodies from Japan are setting up booths, and many works by students from Japan and overseas, including overseas educational organizations, will also be on display. These student works can be viewed by request at the preview desk as well as at information screenings.
Those from animation industry organizations may also use this as an opportunity to discover new young talent. There will also be presentations from various schools as well as seminars for students by artists and others who are active in the field of animation education.
[Time] 9:00 - 18:00 (during the festival)
[Place] Aster Plaza, 1st Floor, Community Gallery
[Booths] Musashino Art University
Tokyo University of the Arts Graduate School
Joshibi University of Art and Design
Chukyo University
Nagoya University of Arts and Sciences
Takarazuka University
Hijiyama University Junior College
Hiroshima City University
Hiroshima Kokusai Gakuin University
Kyushu University
Laputa Art Animation School
Osaka Designers' College
Anabuki Design College Hiroshima
Student Seminar
Professional animation filmmakers will talk about their inspiration for their films and give advice in technical points to animation student.

[Time]to be announced
[Place]1st Floor Gallery
1. August 8th 11:00 - 12:30
"Presentation of the latest animation techniques"

Steven Brown (U.S.A.)

Steven Brown is an artist, filmmaker, animator and educator, working in Los Angeles and Taiwan. He has taught for a decade for the Program in Character Animation, at the California Institute of the Arts. Mr. Brown has also taught for several years in the MFA Graduate Animation Degree program at the Tainan National University of the Arts, in Taiwan. He is also currently teaching in the Illustration Department at Art Center College of Design. In 2010 Mr. Brown was designated as an Artist in Residence by the California Arts Council. His filmmaking practice is centered upon experimental documentaries which combine elements of live action and animation in a variety of ways. Before becoming an educator Mr. Brown worked in the theme entertainment industry, executing environmental concept drawings for a number of theme parks and Las Vegas casino's.
2. August 9th 11:00 - 12:00
"Something that can be taught, something can not be taught"

Taku Furukawa (Japan)

Born 1941 in Mie. After graduating from Osaka University of Foreign Studies (currently Osaka University), worked at TJC and Yoji Kuri's Jikken Kobo before going freelance. Since then has been active as a cartoonist, illustrator, and animation artist. Visiting Professor at Tokyo Polytechnic University Faculty of Arts. Awarded the Medal with Purple Ribbon in 2004. Board member of ASIFA-JAPAN.
3. August 10th 11:00 - 12:00
"Form and movement to inspire imagination – Animation education at the faculty of design–"

Kiyoshi Nishimoto (Japan)

Active in various different fields as an animation creator, from the early 1980s. His works include the software used for displays at expositions and museums, animations for commercials and television science programs, and others. Also involved in the development of software in the early days of interactive media. Currently involved in research work at Musashino Art University's Visual Communication Design Faculty on issues regarding interactive interfaces that exploit the characteristics of visual perception of movement, and possibilities for animation expression using computers, and other such topics. Board member of ASIFA-JAPAN.
4. August 10th 14:00 - 15:00
"watakushimation NINGEN-mation"

Hiroki Mori (Japan)

Graduated from the Animation Course at Department of Graphic Design, Osaka Designer Gakuin in 1980. Involved in freelance work including character design for television commercials, videos, and storyboard production. After working as an assistant at Department of Animation, Osaka Designers' College, assumed current post as full-time teacher, in charge of animation and character design classes. Member of ASIFA-JAPAN.
5. August 11th 11:00 - 12:00
"How to make animation, how to teach animation?"

Hiroshi Onishi (Japan)

Visual artist. Associate professor at the Department of Information Design, Department of Art at Kyoto University of Art and Design, and the Dean of Correspondence, in charge of the animation course at the same institution. After working in image production, multi-media contents production, and as CG production director, assumed current post in 2002. Many exhibition displays and collaborative work with artists. In his recent publication, 'New Exploration of Mono Studies' /SOGENSHA Inc. (2009), he describes his unique classes at Correspondence. Member of ASIFA-JAPAN.
6. August 11th 13:00 - 14:00
"What is meaning of studying animation at school? – Production at educational institution."

Koji Yamamura (Japan)

Born in 1964. Graduated from the Painting Department at Tokyo Zokei University."Mt. Head" was the winner of the Grand Prix on six animation festivals, including Annecy, Zagreb, and Hiroshima, and was nominated at the 75th Academy Awards."Franz Kafka's A Country Doctor" was the winner of seven Grand Prix awards, at festivals including Ottawa, Stuttgart, and Hiroshima.
Winner of over 60 international awards, board member of ASIFA-Japan, Vice-President of Japan Animation Association, and professor of Department of Animation, Graduate School of Film and New Media, Tokyo University of the Arts.
Symposium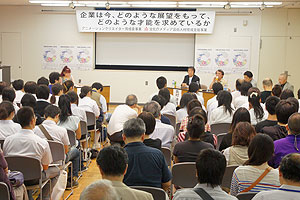 Discussion about the new human resources needed in the current animation industry. Meant to motivate students to develop the skills that industries are lookig for.


[Time]Aug. 9th 14:30-
[Place]7th Floor Seminar Room





Coordinator:Sayoko Kinoshita (Japan)


Animation Filmmaker / Producer. Her representative works made with Renzo Kinoshita, such as "MADE IN JAPAN"('72), "JAPONESE"('77), "PICA DON"('78), "The Last Air Raid - Kumagaya" ('93) and "Ryukyu Okoku - Made in Okinawa"('04), received many prizes including the Grand Prix at various international film festivals. In 1985, she established Hiroshima International Animation Festival, and has been serving as the Festival Director since then. Sayoko Kinoshita has been working energetically and internationally in various fields related to the animation media, including filmmaking, development, education, promotion, etc. Vice-President of Association Internationale du Film d'Animation (ASIFA), President of ASIFA-Japan, Adviser to Japan Society for Animation Studies (JSAS), and Visiting Professor at Osaka University of Arts.

Panelists : Tatsuo Shimamura (Japan)


After graduating from Tokyo University of the Arts, worked at Toei Animation Co., Ltd. (participated in the production of feature animation film"Hakujaden") and Gakken (short film animation production), before establishing Shirogumi Inc., and assuming the position of President in 1974. As a pioneering force in Japanese CG animation, Shirogumi has constantly pursued state-of-the-art technology in film production. At the same time, the company has equipment to cater for metallic armature model animation, clay animation, miniature set production, and hand-drawn 2D animation production, and is involved in feature films, television programs, games, commercials, music videos, Web sites and more. Member of ASIFA-JAPAN.

Panelists : Iwao Yamaki (Japan)


After graduating from the Department of Psychology, College of Humanities & Sciences, Nihon University in 1966, joined Mushi Production to enter the world of animation. Worked on the filming of"Astro Boy" and numerous other animated television series, as well as on the production and technical development of television commercials making use of animation technology. Also involved as filming director and supervisor for"HARMAGEDON" and other animated films. Established an image planning and production company, LAPIZ, Inc., in 2004, mainly centered on 3DCG production. Participated in the full CG animation festival film"Yona Yona Penguin" as chief line producer. Awarded Grand Prix of the 1st Shooting Category on the 3rd Japan Animation Festival (ATOM Award). Member of ASIFA-Japan.

Panelists : Takashi Fukumoto (Japan)


General Manager of Creative Service Dept, IMAGICA Digital Productions. Graduated from Osaka University of Arts in 1981, and joined Toyo Links Corporation in 1982. Since that time, has been involved in image production centered on computer graphics. Assumed the position of President of Links Digi Works Inc., from 2007 until March of this year. As a result of the business integration with IMAGICA, started current position in April of this year. Well-known works include"BIO-SENSOR" (1984), the television commercial 'Shiseido HG"Super-Hard/Penguin chapter" (1995), and more. Produced"KUDAN" in 2008. Member of ASIFA-JAPAN.

Panelists : Kiyoshi Sugiyama (Japan)


Employed at BANDAI VISUAL CO., LTD. / Image producer. Born in 1962. After university graduation, worked at Laser Disc Co., Ltd. (current name: GENEON ENTERTAINMENT INC.) and TOSHIBA EMI Inc. before assuming current position. At Laser Disc Co., Ltd., worked in business and marketing divisions, before moving to TOSHIBA EMI Inc. in 1990. Since that time, has worked as a producer in the image production division. Involved not only in production but also in any genre of live action films, aviation and military documentaries, railway videos and more. Member of ASIFA-JAPAN.

Frame In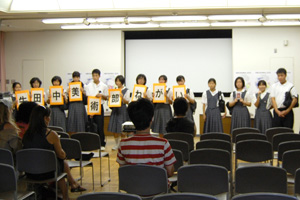 Free space dedicated to young animators. It is an opportunity to show their work, receive advice from other animators, and exchange information.

[Time] Ongoing 9:30-18:30
[Place]7th Floor Seminar Room








Nexus Point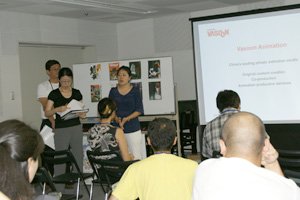 Professional animators are welcome to present their films, and conduct business negotiations.

[Time] Ongoing 9:30-18:30
[Place]5th Floor Medium Music Room