国際名誉会長
Raoul Servais was appointed International Honorary President!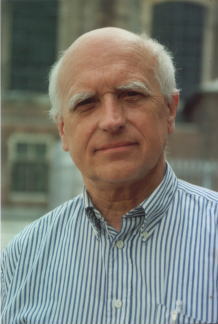 Raoul Servais
This edition of "HIROSHIMA 2010" is quite special, as we will celebrate a double anniversary : the 50th Anniversary of creation of ASIFA - Association Internationale du Film d'Animation - , and the 25th Anniversary of Hiroshima International Animation Festival's creation... which means, respectively, a half century and a quarter century of existence, and it makes this year's celebration truly exceptional.
When an association gets as old as 50 years, it is quite normal that it has a 25 years old child. However, would it be appropriate to proclaim that Hiroshima International Animation Festival is ASIFA's offspring? Yes, it most certainly would be, because it was the members of ASIFA-Japan who brought the impetus behind the establishment of this cultural event, just like many European animation festivals were previously created by other ASIFA Groups.
Obviously, the superb Hiroshima International Animation Festival could not have prospered, from its very beginning, without the high protection and hospitality offered by the City of Hiroshima itself. The city immediately understood the perfect symbiosis between the art of animation and its own aspirations for peace and disarmament.
So, for 25 years, Hiroshima has been illuminated by fireworks of colors, humor, fantasy, imagination and universal fraternity.
Happy anniversary !




Raoul Servais


International Honorary President of HIROSHIMA 2010

※Translated from French original text.





Born in Ostend (Belgium) on the 1stof May 1928.
Student at the Royal Academy of Fine Arts in Ghent. (1945 – 1950)
For a short time, he was assistant to the painter René Magritte.
In 1960, started his career as an animation director.
His films won many festival awards.
Among them : the Grand Prix in Venice, the "Palm d'Or" in Cannes, the Grand Prix in Annecy.
For his career as a film director, he received the "Norman McLaren Heritage" Prize, the "Dragon of Dragons" in Krakow, the "Golden Espinho" in Valladolid.
Was Honorary President of the Hiroshima International Animation Festival '96, and of the International Krakow Film Festival.
Was the founder of the first official schooling in animation on the European continent. (KASK-Royal Academy of Fine Arts-Ghent-1962)
Creates the monumental wall painting at the subway station Houba-Bruggman in Brussels.
Was ASIFA President from 1985 to 1994.
Is Honorary Member of the Royal Flemish Academy for Science and Art of Belgium.
Doctor Honoris Causa of the Ghent University.