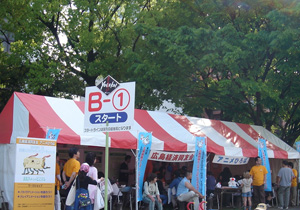 Date: 2008.5.3-5.5,10:00-18:00


Place: Heiwa Park block
(vicinity of Tsuchiya general hospital north side)


Map:Click here
We will exhibit "Animation Hiroba" to "2008 Hiroshima Flower festival" a festival of the flower of peace that connects Hiroshima with the world, held from May 3 to the 5th in the Hiroshima city.
We introduce "The 12th Hiroshima international animation festival" and "Hiroshima animation Biennale 2008" held in this summer, with panel and the flier.
And, we open the workshop of "Flip Book" and "Clay animation" intended for children below the junior high school student.
Those meetings bring up children's dream and futures through the experience of the animation making.
Please come to play in "Animation Hiroba". We will wait for coming.